The European Rare Disease Registry Infrastructure (ERDRI) renders rare disease registries' data searchable and findable. This is achieved through the provision of following components: European Directory of Registries (ERDRI.dor), Central Metadata Repository (ERDRI.mdr) and Pseudonymisation Tool (EUPID).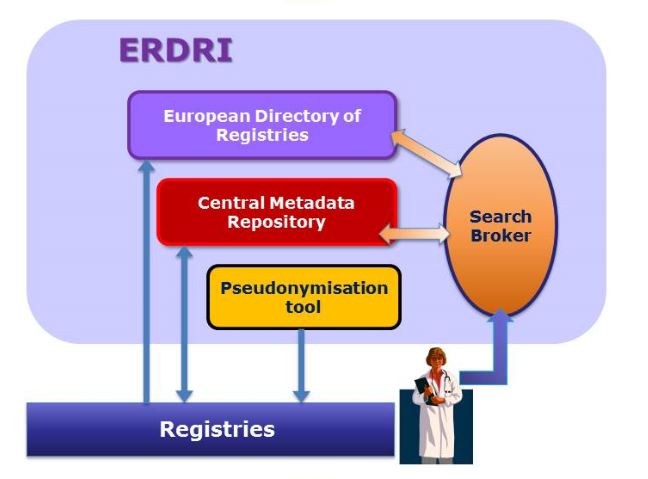 ERDRI supports existing registries in view of their interoperability and the creation of new registries.

ERDRI User access guide pdf
European Directory of Registries (ERDRI.dor)
ERDRI.dor provides an overview of the participating registries with their main characteristics and description.
Data input is performed by registry owners.
ERDRI.dor consists of eight sections with 38 data fields related to a registry of which 23 are obligatory.

ERDRI.dor manual pdf
Central Metadata Repository (ERDRI.mdr)
ERDRI.mdr ensures semantic interoperability between RD registries. It stores all data elements (metadata) used by the participating registries, including the names of the data elements (designations) and their definitions.
Within ERDRI.mdr metadata items from any registry can be either uploaded automatically or inserted manually.
In case of establishing a new registry or amending an existing registry, a user can select from the metadata contained in ERDRI.mdr.

ERDRI.mdr manual pdf
Pseudonymisation Tool (EUPID)
The Pseudonymisation tool is provided to all participating registries through the EUropean Patient IDentity (EUPID) Management Services.
EUPID is designed to provide distinct pseudonyms for patients in different contexts, prevent duplicate registration of patients, keep a protected link between the different pseudonyms, preserve the possibility for re-identification by a trusted third party.
Search broker (ERDRI.sebro)
ERDRI.sebro allows any user to retrieve metadata of interest and its hosting registry via ERDRI.sebro's connection to ERDRI.mdr and ERDRI.dor.
(Coming soon)
ERDRI was developed in collaboration with Goethe University Frankfurt.
Frequently asked questions